Hello everyone. I wanted to make a quick introduction. My name is Julie Nemitz, and I'm a third year IT student. I'll try to keep this short, but I tend to like to talk. I'm sorry in advance if I'm too wordy!!
I'm currently working for a living, and it feels really good. I'm co-oping at Siemens PLMS, here in Cincinnati. (It's actually located in Milford, which is a decent distance away.) PLMS stands for Product Lifecycle Management Software. The company has created a program to manage a product's lifecycle so you can put all your lists and everything in one spot. The product is called TeamCenter. (Some of you may have used it, especially if you're in engineering.) We (the other co-ops and I) are helping Siemens personalize the program for its own use. We're Java Programmers. For me, it's a lot of fun.
I also work here at UC, for RAPP. So far, it's been a lot of fun. Ali and I are the cofacilitators of RAPPORT (Racial Awareness Pilot Program Ongoing Racial Talks). I can hardly wait for the first planning meeting!! Hopefully, we'll all have some great ideas and be able to put together a wonderful year. We're working with Brice and Tristen too, so that'll be fun. I'm so ready for the first meeting!!! I miss all my RAPPmates. (I was in RAPP XXIX, and I miss the days when we had regular meetings.) I got into RAPP partly because of Brice, so I owe him a big debt. One of my goals this year is to make new friends. Another is to become more cognizant of my privilege, because I'm not always aware of it. Another is to help others be cognizant of their privilege (and the areas where they AREN'T privileged). I want to work closely with Brice and Ali to deliver on these goals. And I'm sure there'll be more.
In my free time (as if I have much), I enjoy gaming (one MMORPG called Dekaron which used to be Two Moons and a lot of console games(I have a PlayStation, GameCube, and X-Box 360) of which most are Survival Horror. I know, I don't look like the type. But the more monsters I get to kill, the happier I am). I also like to read (mostly fantasy and thrillers), watch football (I follow a third of the league, and trying to keep straight who traded whom is a lot some days), cross stitch (mostly large pieces), and talk or chat with friends.
I also like to interact with my family. I have my mom still living (my dad died in 2010), and I have a brother and sister in law I'm very close to. I dogsit his dog whenever he goes out of town. He has a boxer named Vin. (I'll get a piccy of him later on so you can see how cute he is. My mom and I have a running argument about it. She thinks he's ugly,lol.) And I have a cat, Yes Dear, who's pictured.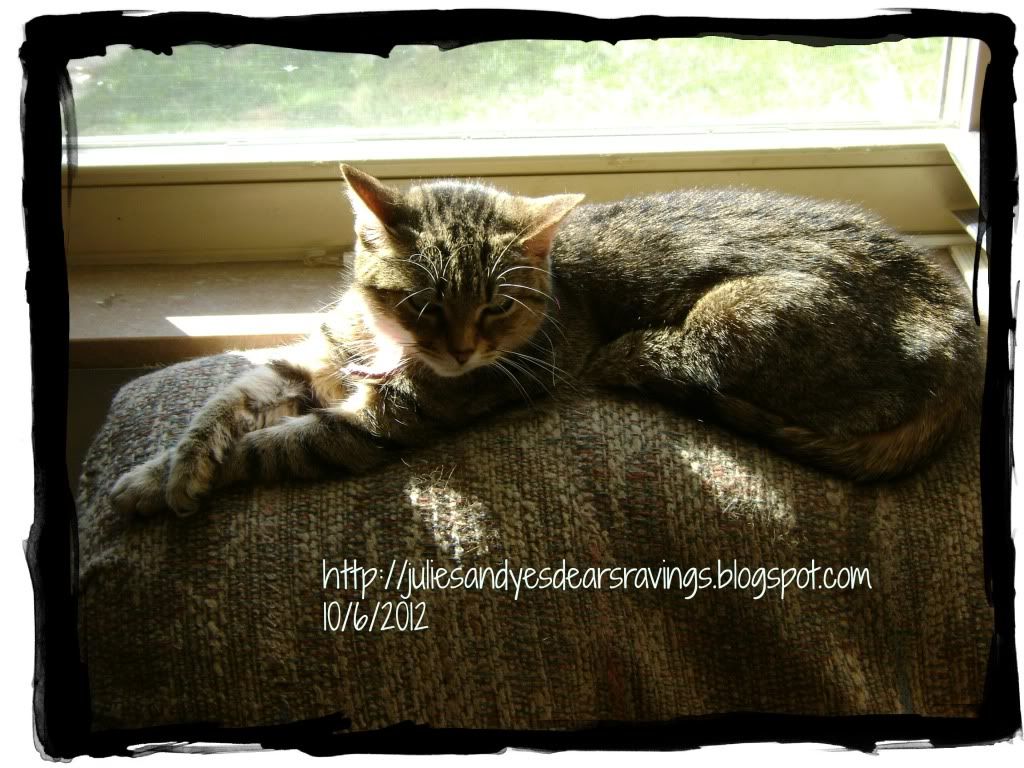 She's the most loveable thing I've ever had!!! Unfortunately, she rules the roost with an iron paw. And man, I've learned since I started working that when she wants attention, she wants it NOW!!! I also have two good friends in Columbus I may talk about (Julie and Dawn) and one in England (Vicki).
Okay, I'll leave you with that for now, but I'll be back over the weeks as I learn new things and hopefully share those lessons with others.