http://www.huffingtonpost.com/2012/02/21/santaluces-high-school-on_n_1292185.html
Santaluces High School In Florida On Alert After 2 Teens Post Racist Video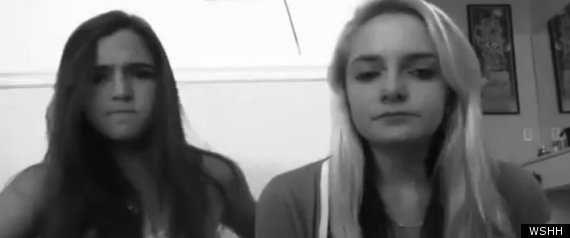 School officials at Santaluces High School in Lantana, Fla., are on alert
, WPEC-TV reports, after two white female students posted the racist video about black students at the school, poking fun at the way they talk, and those that wear "weave" hair extensions.
At one point in the post, one of the girls says, "Guys, if you're watching this video now, and you have a weave, and you're black, please be offended -- because we're making fun of you."
They end the video with, "Don't post this on Facebook because all our friends are black!" And giggle and flash peace signs while saying, "peace and love!" Santaluces High is 27 percent white, 35 percent black and 33 percent Hispanic,
The Palm Beach Post reports.
According to WPTV, the school district is aware of the video but
would not go into detail
about what action will be taken against the students.
"Appropriate action will be taken according to district policy," the district said in a prepared statement, according to WPTV. "Racist comments are unacceptable and have no place in our school district."
The Palm Beach Post reports
that the school is stepping up its security after the girls' video went viral.
In the video, the teens comment on how students start "turning black" as soon as they enter the school -- saying you "catch the disease."
School Police Chief Jim Kelly told
The Palm Beach Post
that since social media is so new, the district doesn't know how to approach the situation, but will look into the issue and determine the proper policy.
Last week, eight police officers were brought to Gainesville High School -- where the students from the first viral video attend -- in light of death threats those girls were receiving in response to their videos. The videos included comments like, "You can understand what we are saying, our accents, we use actual words. Black people do not."
The Gainesville students and their parents have
since issued public apologies
.
Should schools get involved in cases like this? Technically the girls didn't misbehave at school, so how should the school handle the problem?
We often think of racist individuals as coming from a backgrounds with little to no exposure to diversity. However, these girls apparently attend a high school that is very diverse. Why do you think these girls developed these attitudes when they are exposed to people from a variety of racial backgrounds every day?
What is the proper response of society as a whole to these types of incidents. As mentioned in the article, a recent, similar case resulted in death threats against the girls who made the video. Threats and violence are likely to just spread more hate. With that said, should these girls be shamed? Should we reach out to them kindly and try to educate them?
Share your thoughts.